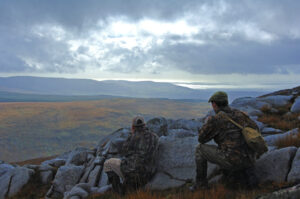 The entire area extends to just under 43,000 hectares which includes a considerable area of enclosed forestry and farmland as well as open hill. Management of deer is the primary objective on the open hill range, carried out by the way of a management cull.
Arran DMG is one of the smaller DMG areas in Scotland. There are four main members of the Group, which is operated as a single unit in the north of the island. In the south of the island, there are a much wider group of farmers in particular, both tenants and owner occupiers. Arran DMG is currently trying to bring as many of these properties as possible in to the DMG.. There are a number of communities around the periphery of the area who can be impacted by deer, and liaison with them is particularly important. Forestry & Land Scotland are a significant landowner within the area and there are a number of private forests managed by woodland companies with deer management undertaken by the Estates who are members of the Group.
The open hill range and Forestry & Land Scotland areas are well used by hillwalkers and for outdoor recreation in general, and mountains such as Goat Fell are well known throughout the country and are a popular attraction for visitors to the island.
The main members of the group are:
Arran & Sannox Estates
Dougarie Estate
National Trust for Scotland
Forestry Land Scotland